Supercharge Your Applications with tailored
job-winning Cover Letters – Handwritten by an Expert, Not a Machine.
Break free from generic templates – Upgrade to personalised cover letters designed by a specialist with a track record of 500+ successful clients. No teams, no outsourcing, just dedicated personal attention to your career aspirations.

Spots Available for Sep, 2023 : 4/10
Get a 50% discount on any Cover Letter Writing package when you purchase a CV Writing Service.
Welcome to my cover letter writing service. With over 10 years of experience as a career coach, I've assisted more than 500 clients in unlocking their potential through carefully crafted cover letters.
I don't just write cover letters; I weave compelling narratives that stand out. These aren't dull "please see my CV attached" types or the ones that begin with the old-school "To Whom It May Concern". There's no fluff – just an engaging narrative showcasing your competencies and enthusiasm.
Whether you're a student, a mid-level professional, or a seasoned CEO or CFO, I work one-on-one to design a cover letter that resonates with your career aspirations and stands out in the stack.
Make your first impression count with a compelling, personalised cover letter that resonates with your future employer. Let's write your success story together.
Why your Letters aren't generating attention and landing you interviews

.
A finely crafted CV is transformative. It's not just a document; it's the key to unlocking career milestones and reaching higher goals. In my decade-long journey as a career coach, I've witnessed hundreds of such transformations.
1. The Generic Approach
Are you using the same cover letter for every application? If so, this could be why you're not getting responses. Each job and each company is unique, and your cover letter should reflect this by being tailored to each specific role.
2. Failing to Connect
A cover letter is your chance to show that you understand the company's mission and values. If you're not making that connection clear, it's a missed opportunity.
3. Ignoring the Questions
Cover letters must answer specific questions – Why you? Why this role? Why this company? If you're not addressing these key points, you're likely losing the recruiter's interest.
5. Absence of Storytelling
The best cover letters tell a story. They connect the dots between your experiences and how they've led you to this exact job opportunity.
6. Clunky Communication
If you can't articulate your thoughts clearly and concisely, you may be seen as lacking communication skills. A cover letter is your chance to demonstrate these skills.
7. Impersonal Tone
A cover letter should feel like a personal conversation. If it's too formal or lacks warmth, it may fail to create a connection with the reader.
8. Missing the 'You' Factor
You might be forgetting to highlight how you can help the company rather than focusing solely on what the company can offer you.
9. Lack of Enthusiasm
If your passion for the role or the company isn't shining through in your cover letter, you may come across as uninterested.
10. Neglecting the Call-to-Action
End your cover letter by expressing your interest in discussing the role further. If you don't, you're missing out on the opportunity to prompt the recruiter to reach out to you.
Get my CV writing Service and receive a 50% discount on the Cover Letter.
The failproof formula for writing job-winning Cover letters
Having spent years refining my craft, I've come to master a straightforward yet powerful formula for creating compelling cover letters that capture attention and seal the deal.
These five fundamental steps, or paragraphs, if you will, form the backbone of my successful approach
1. Breaking the Ice – Opening paragraph
Every conversation starts with an introduction, and your cover letter is no different. But avoid falling into the trap of being too formal or generic. Show a bit of creativity, and adapt to the company culture. For instance, you might kick things off for a Gen-Z-focused startup with a line like, "Please fill up your coffee cup; this is going to be a thrilling letter." For one of the letters, which was longer than it should be, I started with, "Please fill up your coffee cup; this is going to be a long cover letter" (the client got the job). Remember that formal environments might call for a more conservative approach.
2. Why you selected the company – Expressing Your Interest
Many applicants make the mistake of making their cover letter a monologue about themselves – avoid this pitfall. Your CV is your personal advertisement; the cover letter should articulate your interest in the specific company and role. Like a love letter, make it personal and express why you've chosen this particular organisation. Reflect on your deep connections with the company's projects, ethos, or history. It is your chance to showcase your research skills and ability to connect more deeply. Find something outside their website's first page or Google search results.
3. Why should they select you – Demonstrating Your Fit
Once you've connected to the company, it's time to connect the dots between your skills and the job requirements. Remember, you're not repeating your CV here. Instead, you're weaving a narrative that showcases how your unique experience aligns with the role. Link your capabilities with the job description keywords, and most importantly, focus on the "why" and "how", not just "what" of your story.
4. How will you add value – Projecting Your Impact
This is an extension of the previous step, where you highlight how you can add value to the company. Align your abilities with the job description, goals, and the company's mission. Show them how you can be a part of their success story.
5. Signing Off
End on a realistic yet confident note. Avoid over-promising, but don't shy away from expressing your belief in your ability to excel in the role. Add a personal touch to your closing, maintaining humility and sincerity.
Note: Your cover letter's tone should match the role's level. A letter for a C-suite executive will be more formal and direct than one for an entry-level professional. Tailoring your communication to the audience is crucial in conveying the right message.
Another thing to consider is using proper punctuation and articulating your thoughts. Write short sentences. Engage. And when you feel that the reader is invested, present complex ideas with a long sentence that carries your message, energy, and passion. Don't just write words — make them jump out of the page with excitement.
But you probably already knew that.
All this stuff is easy in theory, but difficult in execution.
And that's where I come in.
My Cover Letter Writing Service encapsulates
my 10+ years of professional experience, powerful insights, and hard-earned wisdom.
Crafting standout cover letters isn't a task that can be outsourced or mechanised; it requires the human touch, the careful selection of each word, and the thoughtful crafting of every sentence. This core belief is the cornerstone of my personalised Cover Letter Writing Service. I funnel a decade's knowledge, practice, and refined strategies into creating your one-of-a-kind cover letter.
At the heart of my service is me – no team of writers, no automated software. This level of personal involvement guarantees unmatched precision and attention to detail. Every cover letter I craft weaves a unique and captivating narrative, perfectly encapsulating your career journey and future aspirations. Guided by the principle that "your cover letter should be so fine-tuned that even removing one word disrupts the narrative," I strive for perfection and brevity in every document.
With my Cover Letter Writing Service, you receive a cover letter that reflects your unique story, stands out in today's dynamic job market, and harmonises with the future of work. Let's create a cover letter together that opens new opportunities and serves as a potent instrument in your career advancement.
What do my old clients say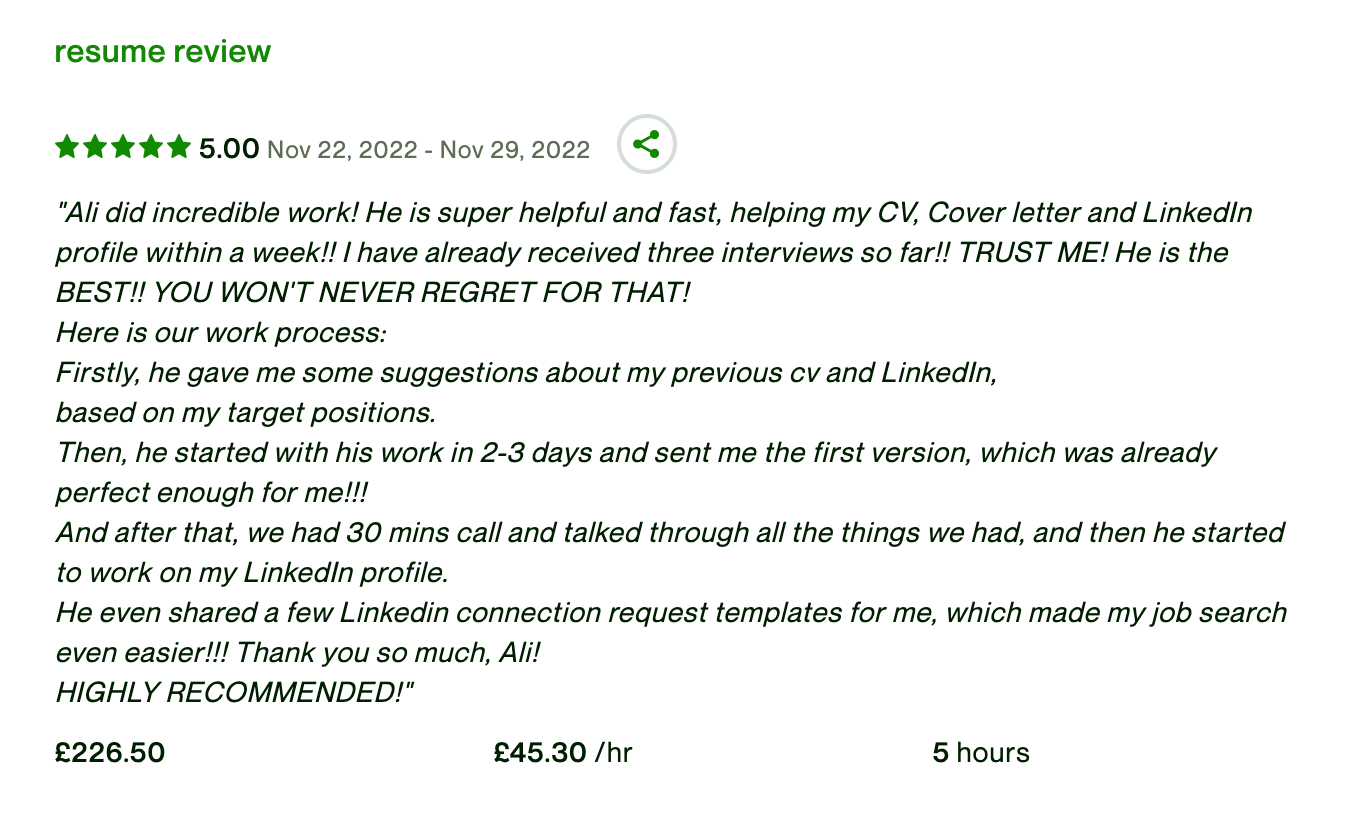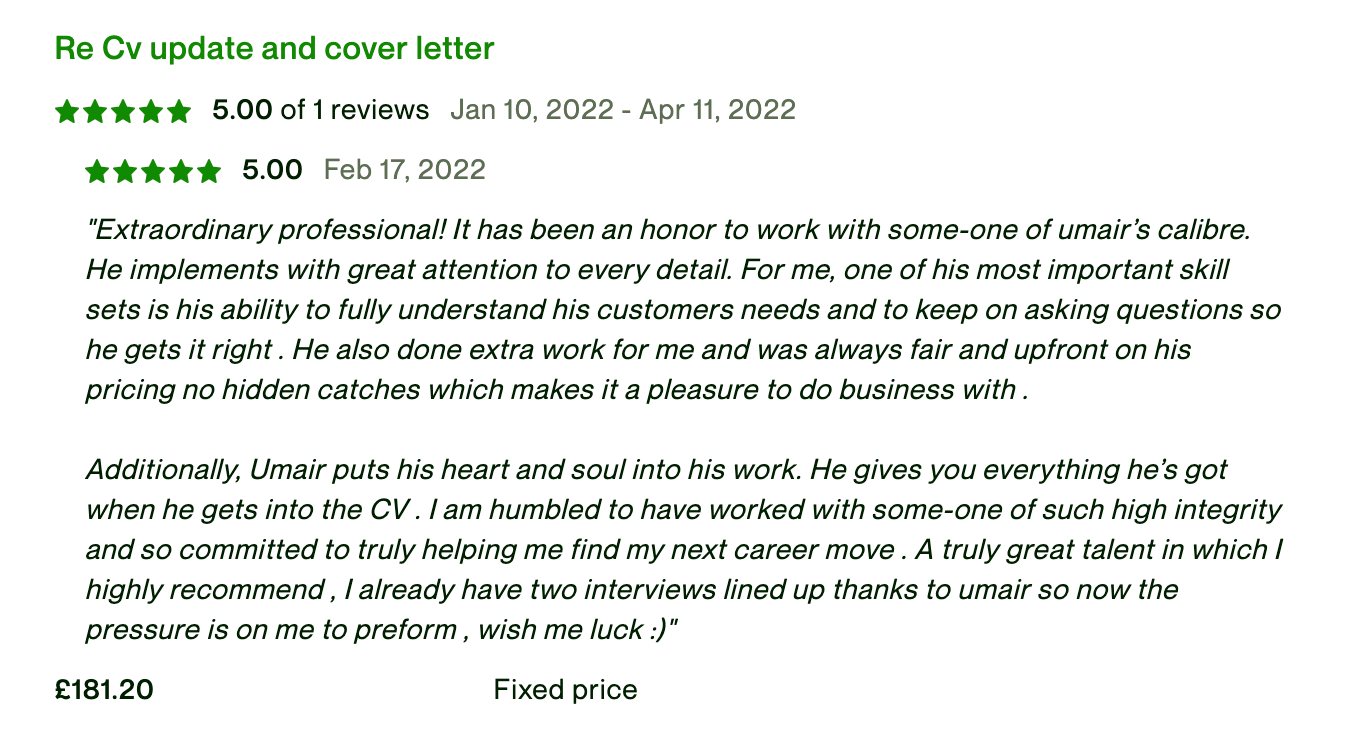 What's Your Career Growth Worth – My prices
When evaluating the cost of a professional Cover Letter Writing Service, it's critical to view it as an investment. This investment is in your career development, future opportunities, and, above all, yourself.
A compelling cover letter is often the first step in securing high-tier job interviews, negotiating improved salary packages, and enhancing your overall job satisfaction.
The initial impression can lead to an interview, a job offer, and, ultimately, a prosperous career.
The more impressive the job, the quicker you'll see a return on your investment.
With a decade's experience and countless client success stories, I offer my services with unwavering faith in their efficacy and a clear understanding of their potential value to your career. Now, let's explore my packages and embark on investment toward your brighter career future.
Cover Letter
Writing Service Packages
Launchpad
For Students and Fresh Graduate
A custom cover letter tailored to your dream entry-level job or internship

An all-purpose cover letter for general use

Personalisation based on academic achievements, internship experience, and career aspirations

ATS-friendly and SEO-optimized content
The Rising Star
For Professionals with Less than 5 Years of Experience
A custom cover letter designed specifically for your target job

A general-purpose cover letter for multiple applications

Integration of professional achievements, skills, and future career goals

ATS-friendly and SEO-optimized content
The Career Champion
Professionals with 5-10 Years of Experience
Two customised, high-impact cover letters focused on your desired job

A general-purpose cover letter for a wide range of job applications

Emphasis on professional accomplishments, leadership roles, and career trajectory

ATS-friendly and SEO-optimized content
Executive Elite
For Executives, CEOs, CFOs, and C-suite Professionals
An elite, custom cover letter exclusively tailored to your target executive-level position (2 Versions)

A versatile, general-purpose cover letter for diversified executive roles

Highlighting executive leadership, strategic accomplishments, and significant career milestones

ATS-friendly and SEO-optimized content
Amazing Deal Alert! Get a 50% discount
on any Cover Letter Writing package when you purchase a CV Writing Service. Elevate your job application with the perfect pair: a professionally crafted CV and a captivating cover letter. Let's unlock those doors to your future together!
You will get editable MS Word and PDF versions for each service. Each package is designed with your career stage in mind, ensuring that your CV effectively communicates your skills, experience, and ambition to potential employers.
In addition to my expert writing services, I'm offering a suite of bonuses tailored to enhance your job search. These aren't your ordinary add-ons; they're thoughtfully chosen tools and services designed to give you an edge in your career hunt. All for free with any CV or Cover Letter package!
🎁 Bonus #1
Complimentary LinkedIn Profile
EvaluationYour content goes here. Edit or remove this text inline or in the module Content settings. You can also style every aspect of this content in the module Design settings and even apply custom CSS to this text in the module Advanced settings.
🎁 Bonus #2
Customizable Notion Job Application Tracker
EvaluationYour content goes here. Edit or remove this text inline or in the module Content settings. You can also style every aspect of this content in the module Design settings and even apply custom CSS to this text in the module Advanced settings.
🎁 Bonus #3
Complimentary Cover Letter Critique
EvaluationYour content goes here. Edit or remove this text inline or in the module Content settings. You can also style every aspect of this content in the module Design settings and even apply custom CSS to this text in the module Advanced settings.
The
"Game-Changer"

Guarantee.
I am so confident in the impact and quality of my cover letter writing service that I offer a one-of-a-kind "Game-Changer" Guarantee
100% Satisfaction or I'll Re-Write it.
If, for any reason, you're not entirely satisfied with the cover letter, or if you feel it doesn't resonate with your personal brand or target job, I'll revise it until you're happy. I'm committed to your satisfaction and will only stop once we've created a letter that you're confident to send out. You just need to request it within 30 days of delivery.
I'm here to create not just a cover letter but a master key to your dream job, and I'll work alongside you to ensure it's perfect. That's my promise to you. And remember, a great cover letter isn't a cost – it's an investment in your brighter future.
Frequently
Asked Questions (FAQs)
I need a cover letter urgently. Can you help?
Absolutely! I understand the urgency often associated with job applications. If you're on a tight deadline, please get in touch directly, and we'll work out a timeline that suits your needs.
What do I need to provide you?
Once you've selected a package, I'll need your current CV, a description of your target job, and any specific points you want to highlight. These details will allow me to customise your cover letter to best fit your goals and industry.
I don't have any draft cover letter. Can you still help?
No problem at all. After your order, I will send you a questionnaire to complete. It will give me the necessary information to create your impactful cover letter. Please ensure your email address is correct, and remember to check your spam folder within 24 hours of your order.
Your cover letter writing charges are higher than other professionals. Why is that?
While numerous excellent cover letter writers are available, my service is distinctive. I provide unmatched value and ongoing support, reflected in my pricing. The aim is not just to deliver a document but to empower you with the tools, insights, and confidence required to progress in your career.
I also need a CV and LinkedIn profile optimisation. Can you help with these?
Absolutely! I offer comprehensive career services, including CV writing and LinkedIn profile optimisation. You can check out these services here.
I hope these answers help. If you have more questions,
don't hesitate to get in touch!